BSc Optometry (Bachelor of Science in Optometry)
B. Optometry and BSc Optometry are two most popular bachelor degree programs in the Optometry field. BSc Optometry course opens a wide variety of career opportunities to the graduates. BSc Optometry is a full-time undergraduate Optometric course of 3 years which is divided into sex semester of study. An BSc Optometry graduate has ample opportunities waiting around, all one needs to do is to grab it. All of this is because of the diverse skill set one possesses.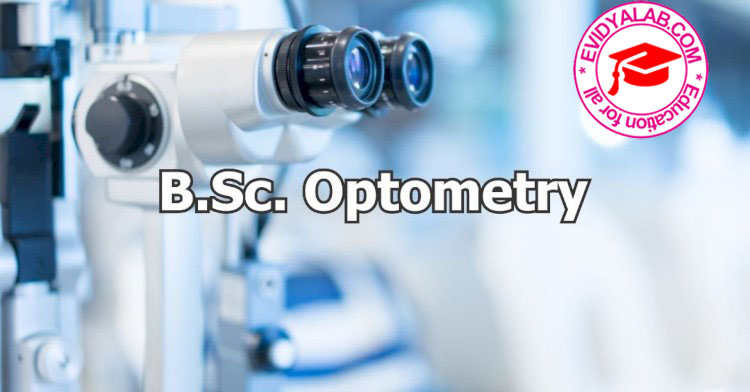 E-Vidya Lab: Career Advisor : Get Admission in various schools, collages and professional institute and Fulfill your dream. We advise and help student to get admission in top colleges,
Bachelor of Science degree in Optometry field provides extensive training and medical knowledge about the human eye.Apart from making the fundamentals of the human eye clear, this course will also teach how to operate various types of medical equipment that are a must for every optometry student and practitioner to know.
Communication skills will also be focused on since it is imperative that the students know how to properly communicate with patients. The duration of the course is three years (four years in some universities which include one year of internship) and it is an important and career orienting in nature which provides widespread scopes to the candidates.
Why Study BSc Optometry?
There are plenty of reasons to study the BSc Optometry course. Most of the students prefer to study BSc Optometry course because of the following advantages they get:
The students after graduating can become adept professionals through hands-on training and regular field visits up-skilling them in optometric practices, aspects of clinical optometry contact lenses, paediatric optometry and binocular vision eye diseases and treatments.
The students will learn to participate in industrial safety programmes, work with road safety organisations and they can pursue their individual practice independently or can serve in government or privately managed organizations to contribute to the welfare of the society.
BSc Optometry degree serves as a basis for further higher studies in this field such as M.Sc., Ph.D. and M.Phil. Degree in Optometry, the successful completion of which makes one eligible for the post of a lecturer in any university/college.
The scope for optometric practices in India and abroad is very wide and it is a dynamic and challenging career in which one could achieve personal growth and get respect from society.
They can go for further higher studies and research work in the field of Optometry and take up the job of teacher/lecturer in several universities and colleges.
After passing the course, they can establish an independent practice by starting their own eye clinic, optical shop, lens manufacturing unit, etc.
What after BSc Optometry ?
An BSc Optometry graduate has ample opportunities waiting around, all one needs to do is to grab it. All of this is because of the diverse skill set one possesses.
There are many job opportunities for BSc Optometry graduates. The students become eligible enough to get job opportunities in various private and public sectors in relevant sectors.
They can find jobs in lens manufacturing units, optician showrooms, multinational companies dealing with eye care products, etc.. Some of the posts are Optometrist, Optician, Sales Executive, Teacher, Eye Doctor, etc. The salary of the graduates depends on various factors including experience, skills and job profile.
our career advisor will call you
Admission Open for 10th, 12th, BA, B.Com, B.Sc, MA, M.Com, M.Sc, BSW, MSW, B.Lib, M.Lib, D.El.Ed, B.Ed, M.Ed, BCA, MCA, BBA, MBA, Diploma, B.Tech, M.Tech, LLB, BALLB, LLM, D.Pharma, B.Pharma, B.Sc Nursing, M.Phil, PHD.
---