MBA Hospital Management (Distance Education)
Apart from the regular course, one can also avail MBA Hospital Management Distance Education in India. The goal of the Distance MBA in hospital administration is to educate remote students about the managerial skills in the healthcare department . The MBA hospital management course is carefully designed to cater the needs of practicing healthcare managers who want to be professionally qualified.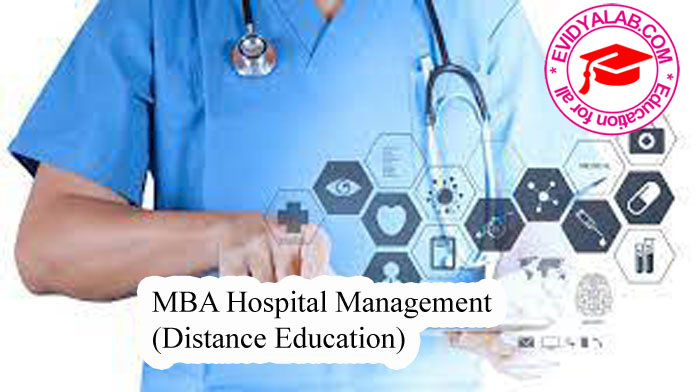 E-Vidya Lab: Career Advisor : Get Admission in various schools, collages and professional institute and Fulfill your dream. We advise and help student to get admission in top colleges,
Healthcare is one of the fastest growing and most challenging industries in the world. Global healthcare is entering its most challenging era, with increasing demand for services. Thus significantly one must professionally deal with advanced medical technology and be opportunistic with currently growing many new hospital care centers coming all over the countries. Unfortunately some educational programs for future healthcare leaders fails to provide many of the needed skills with more care-based teaching and efforts to help students focus on strategic insights and business aspects.
The MBA in hospital administration can be pursued through regular mode and online distance education mode. Distance education MBA in hospital administration is approved by the University Grant Commission (UGC) and also has the validity as the regular course.
In distance courses, the students are allowed to take classes according to their time preferences so that they can learn effectively. Both the medical and non-medical background students can apply for this course. The hospital administration is all about the management of the industries related to public health, for example, hospital industries, healthcare units, etc.
Distance learning mode
Hospital Administration courses distance learning are beneficial for those who could not have done this course in regular mode. While working one can get an additional qualification in hospital administration that can enhance their work prospects.
Duration: 2 Years
Eligibility: Pass in Graduation in any discipline
They would have a deep knowledge of the responsibilities of senior hospital management, including understanding the role and functions of hospitals and their health care context and prepare to handle the management and development issues faced by a hospital manager, including structure and organization; planning and managing resources; and reviewing and evaluating services. They would be able to recognize how operational problems and situations are handled in practice by undertaking and reporting at a hospital attachment. These management graduates can formulate ideas and develop and participate in implementation of plans for establishment and expansion of Hospitals.
our career advisor will call you
Admission Open for 10th, 12th, BA, B.Com, B.Sc, MA, M.Com, M.Sc, BSW, MSW, B.Lib, M.Lib, D.El.Ed, B.Ed, M.Ed, BCA, MCA, BBA, MBA, Diploma, B.Tech, M.Tech, LLB, BALLB, LLM, D.Pharma, B.Pharma, B.Sc Nursing, M.Phil, PHD.
---