PV Solar Rooftop to MW Power plant Business Course
Solar rooftop business course, PV Solar business course, specialized in solar photovoltaic power plant design, Knowledge on PV installtion, trouble shooting, O&M, and share latest PV tech. This training programs are particularly focused on entrepreneurs who wish to start a Solar PV solar business. commercial product portfolio can maximize ROI of your PV plants. Easy installation, plug-and-play design, IP66 & C5 protection.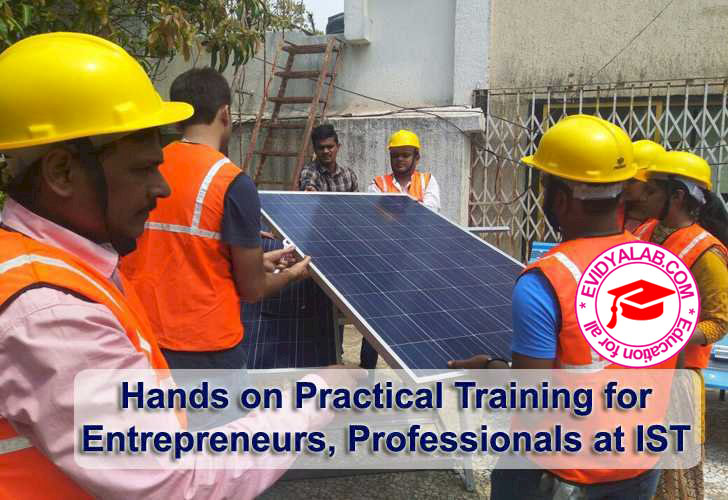 E-Vidya Lab: Career Advisor : Get Admission in various schools, collages and professional institute and Fulfill your dream. We advise and help student to get admission in top colleges,
To set up a PV solar EPC business an individual from any background need a detailed knowledge from residential, commercial and industrial PV projects detailed engineering to techno-commercial report preparation. This course covers technical details needed to assess potential residential, commercial PV projects and to prepare proposals. Discussed in detail: safety, site analysis, design, performance, costing, subsidy, financial-benefit analysis, financing bankable report preparation.
The trainees will have the opportunity to interact with highly experienced trainers on site assessment and planning, feasibility study and detailed project report preparation, design and installation best practices, PV system performance modelling and energy yield assessment, documentation as per IEC standard, inspection procedure and quality assurance, O&M planning, tender document preparation and contract management. Course covers both rooftop and ground mounted MW scale PV power projects.
Live Interactive Classes::
IST Live Interactive Class, where students and teachers meet together at schedule class time with whiteboard, voice and live video, Lectures and Question answer occur at the same hour.

Our expert faculty members take session on each paper that is delivered through live sessions. These sessions are joined by students from India and Abroad. Trainers will discuss in each class session about Key concepts, whiteboard calculation, design, costing, documentation, case studies and real life examples. Students also get chance to clarify their doubts / academic clarifications. If by any chance you miss these live classes, don't worry, each class recorded sessions are uploaded in the IST E-Library/LMS.
Hands-on Practical
We know that only theoretical knowledge by online or virtual classes are not sufficient to get full expertise. An individual needs a practical exposure to flourish in a Job or business market. So we offer practical session at IST Power plant after completion of live interactive online classroom session .In this approach a trainees can fulfill his/her knowledge in a very effective way and time.
CORE SYLLABUS:
Global and Indian Solar Energy Scenario
Basic Electrical Engineering
Solar Panel/Module Technology
Solar Resource Assessment
Solar plant Balance of System (BOS)
PV Battery Selection Calculation
Rooftop Solar Power Plant Calculation & Design
Rooftop Solar Project Costing
MW solar power plant design
Financial modelling and calculation of profitability
Project Management
Entrepreneurship Guide for MSME
Teaching and Learning Material
IST have dedicated online library (IST E-Library) facility for students and stored all Learning Material (E-book, class recording, business releated documents) at IST E-Library.
IST E Library System provides access to more than 100 + e-books covering all fields of knowledge, e.g. BOS,PV Cell, System Design, O&M, Installation, Project Management etc and also we have a huge collection of national and international journals, case studies, research papers.Student can access this E-library for self study.
our career advisor will call you
Admission Open for 10th, 12th, BA, B.Com, B.Sc, MA, M.Com, M.Sc, BSW, MSW, B.Lib, M.Lib, D.El.Ed, B.Ed, M.Ed, BCA, MCA, BBA, MBA, Diploma, B.Tech, M.Tech, LLB, BALLB, LLM, D.Pharma, B.Pharma, B.Sc Nursing, M.Phil, PHD.
Click Here To See More
---